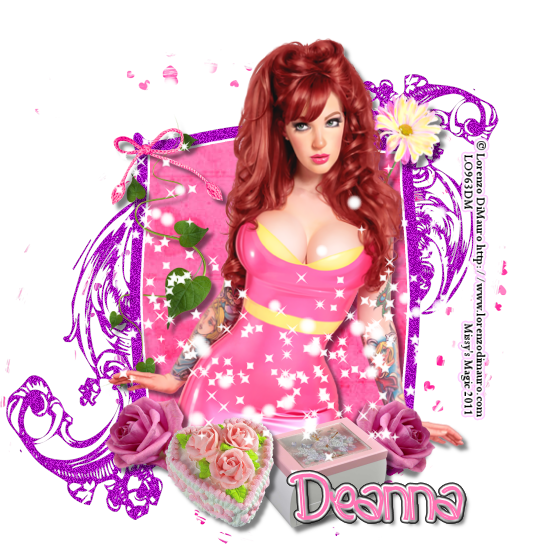 What you need:::
Working knowledge of PSP.
I used a tube by
Lorenzo Di Mauro
. You MUST have a license to use this art!
The kit is Happy Girl from
Butterfly Kisses Scraps
. You can purchase it from
Scrappin' Dollars
!
Font used was yummah strawberriez from
dafont
Plug-in
: Alien Skin: Gradient Glow
Make sure to save often!
Design:::
Use a new image with a white background, I used size 600x600. You can always resize later.
paste the frame6 as a new layer
use your magic wand and click inside, paste paper1 as new layer, selections, modify expand 2, invert, delete, select none, move under frame
paste closeup as new layer. Erase bottom of legs that are over frame
Time for the elements!!
Choose what you like, however, to match my tag, this is what I used (and resized)::
vine - 60% (dropshadow)
heartscatter1 - drop to lowest layer
rose2 - 30% (duplicate, mirror)
bow3 - 30%
flower2 - 50% & 60% (rotate, 20 right)
jewelrybox - 30%
heartcake - 30%
Sparkle3
Don't forget to add your name and your copyright! Hide background, merge visible, resize if desired and save as a png.
I used Gradient Glow around the name to help it stand out.
This tutorial was written on March 1, 2011. The concept of this tutorial are copyrighted. You may LINK to the tutorial and/or print it out for personal use. Please do not copy any of it to put online, pass out or re-write without permission. The image you create from the tutorial is for you to do what you wish except for monetary gains or for merchandising. Any resemblance to another tutorial is purely coincidental.